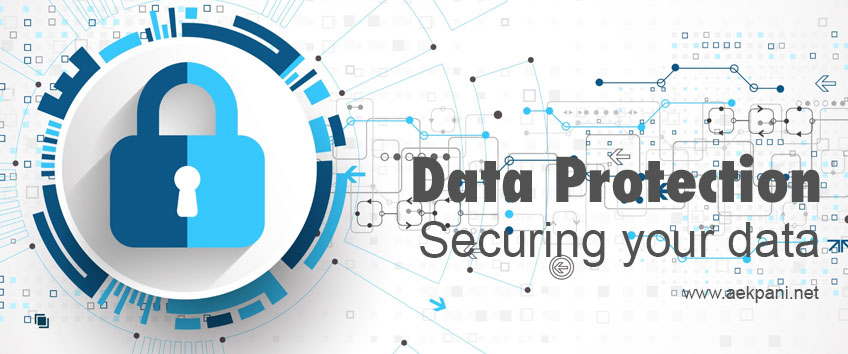 Securing your Data (Data Protection)
Data Security is getting more complicated people and companies are working hard to make sure that your data remain intact and accessible to you. As time passes by computer viruses are getting more sophisticated and using adaptive methods to deceive users and they end up getting the system infected and compromise the integrity of the data and computer networks.
Nowadays Data is no longer just data or simply 101 binary numbers data has now become more powerful than ever in the history of the human world, it can cripple an entire economy or trigger war and generate conflicts between people and countries its no longer just data it has become a powerful tool for science, money thought process, personality and in the end evolving into of AI (Artificial intelligence)
What you have done to secure your DATA?
Here comes the big question what have you done to protect your data we all know some basic method to avoid data theft and integrity of it; an average person or organization thinks by installing a simple antivirus or firewall they are protected and no one can steal their secrets until someone does. When this happens, everyone panics and points fingers someone loses his job but it gets too late and the culprit has done its job to avoid a situation like that Aekpani Networks introduces EgoSecure.
Introducing EgoSecure
EgoSecure All-in-one solution to your data security a reliable system protects your data in background tailored to your company needs.
Insight: Insight collects facts about the data security of your network and displays them in graphs and very detailed tables, meeting the information requirements of both management and administrators. The module, therefore, provides a foundation so that protective measures do not have to be set up blindly. First, the facts are used to diagnose the requirements for the initial installation of protective measures, and from then on they are used to constantly monitor whether your company's protection requirements change with time.
IntellAct
The new IntellAct module analyses the facts from Insight and automatically activates protective measures based on pre-defined rules. In addition, it can make comparisons with benchmarks, automatically detecting anomalies and critical situations so that an appropriate response is triggered to protect an organization's data. This automation greatly facilitates the work of administrators and minimizes reaction times considerably.
Protection
The protective measures in EgoSecure Data Protection are based on the tried-and-tested C. A. F. E. management principle. This concept assigns all protective functions to higher level data protection categories: CONTROL, AUDIT, FILTER, and ENCRYPTION. CONTROL: Device Management, Cloud Access Control, Connection Access Control AUDIT: To ensure IT-compliance FILTER: Content Analysis & Filter, Antivirus, Application Control ENCRYPTION: Removable Device Encryption, Full Disk Encryption, Pre- Boot Authentication, Folder Encryption, Network Encryption, Cloud Encryption, Permanent Android Encryption, IOS Encryption, Mail Encryption MANAGEMENT: Mobile Device Management, Inventory, Password Manager, Secure Erase, Green IT.
The automation of IT security is a current trend which is being discussed and promoted at security conferences worldwide. While others are still busy talking about it, EGOSECURE as the leading innovator in the industry has already responded to the trend with its current solution EgoSecure Data Protection 12.