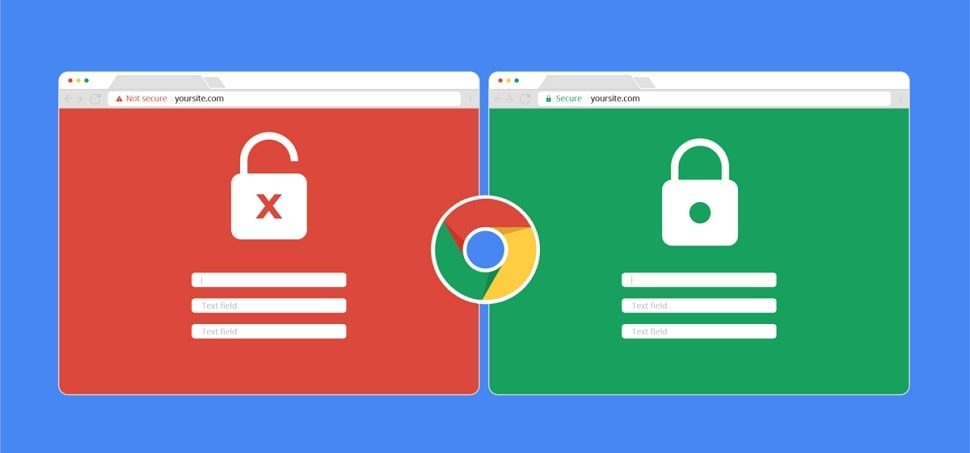 Google Sets Deadline For SSL Certificates and HTTPS
Security is Top Priority
Google has become the largest search directory in the history of the internet. With such leaps and bounds in networking there are sure to be some issues regarding the efficiency of the systems. Security is one of the big concerns at Google as promises to make your search engine experience as secure as possible. It is safe to say Google is ready to go to any lengths to ensure that the user enjoys a secure connection to their web needs specially with the rise of hackers all around the world. On February 8th, Google made clear its intentions to formally mark websites lacking SSL Certificates (the certificate which once installed on the website results in an HTTPS secure URL string) as insecure. Google has confirmed a date of "early July 2018" as the start date. They have also disclosed how they will alert web surfers of the non-HTTPS status, or not secure. Here's an example, as posted per Google, of difference in URL optics between HTTP and HTTPS encryption websites:

The Importance of SSL Certificates
Though there are many who fully understand what an SSL certificate is and why there is a need for such a security pre-requisite for a website, there are still others that don't necessarily understand its importance and how much of a big role it plays for integration within the system. A SSL certificate provides validation that the security for a website is on par with the standards set by Google. This is easily visible on the website's URL protocol which has HTTPS instead of a HTTP. This very faction helps Google cut down on cybercrimes and hacking attacks which may leave sensitive information of the user exposed. Furthermore, a website with the SSL certificate is usually more trusted in that the user is assured that it falls into the realm of secure sites under the Google umbrella. This helps prevent the exposure of sensitive information through complex encryption that even a modern day hacker will have trouble getting to. Such authentication is the norm if the trust for a certain brand is to be maintained while it assures the user that security standards are being met at all times during the time of their usage of a certain site.
Why You Should Be Ready
Google has set a deadline for all sites to have a SSL certificate or else they will be marked with a security warning. This may cause distrust in the business and even be forcing the user to invest their time and money elsewhere. That is not to say that the search engine will handicap these sites but with security warnings occurring during usage, it is bound to turn customers away. This will result in the change of bounce rate and click rate which will eventually lead the site to perform worse in the search engine's algorithm. To get an SSL certificate, the hosting company will have to be used where many hosting companies are offering certification for as less as $7. It is safe to assume that in the future if one is to create a legitimate business on the internet then an SSL certificate is something of a necessity for their site.